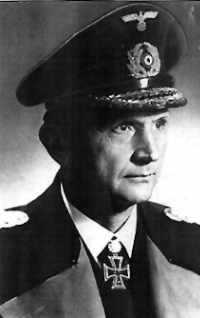 The following is Mr. William Stump's recolection of his meeting with Admiral Doniz. It is a true story of a collector adventure. I would like to thank Mr. Stump for making this available to us.
My career of collecting orders, medals and decorations of the Third Reich has spanned a period of over four decades. I have traveled the world, visited with scores of private collectors, and visit the major museums in America and in Europe. I searched the collecting world over for the higher decorations and especially for those with diamonds. I can count less than two dozen collectors and museums that had the special award in diamonds with their in their collections. Now, forty year later, there isn't a week that passes that one or more can't be found on Ebay, in major auction houses, or on many of the dealer web sites or sales lists. It is ironic that I could only acquire three examples of diamond awards in my entire collecting career. It wasn't because of the price, but because of the un-availability of such rare items.
Of all the diamond awards produced during World War Two, the U-boat badge with Diamonds appealed to me the most. I owned one of these special U-Boat badges and an Auxiliary Cruiser Badge with Diamonds at the time I visited with Admiral Donitz. (Note that I didn't say U-boat WAR badge with diamonds because these were not an official government approved awards, but rather they were awards of a personal nature and were awarded only by the Commander in Chief of the Kreigsmarine. Only two Admirals gave such awards and they were Grand Admirals Erich Raeder and Karl Donitz.)
In 1969, I was planning a three-week vacation trip to Europe for the purpose of researching and compiling information for my "book that never was", purchasing new items for my collection and visiting the major museums to see first hand what some of these very rare diamond awards looked like. The West Point Military Academy Museum had whetted my desire when I got to hold and examine Hermann Goring's diamond studded baton, the German Cross with Diamonds and the most impressive cased 1st Class Social Welfare decoration with over 86 large diamonds and scores of lesser diamond chips. The case was as much a work of art as was the decoration itself. It was produced in gold and fine silver and had a unique border set with precious and semi-precious stones.
It was while I was visiting Ted, who at the time was employed by the West Point Library, that he assisted and arranged for me to contact Admiral. Ted spoke and wrote fluently in German and composed a letter to the Admiral introducing me as a serious student of military history. I often kidded Ted for over embellishing my credentials, but I mailed the letter to Donitz as soon as I had made my plans to visit Germany that coming June. On May 26, 1996, I received a short note from Admiral Donitz inviting me to his home during my visit to Germany. I was planning my travel schedule with two good friends by the Name of Paul Peters and Gary Walker. We were all members of the Ohio Valley Military Society and avid collectors. Gary and I especially wanted to visit the Luftwaffe Museum as Gary was very interested in the Luftwaffe. He had just acquired the baton once carried by Fieldmarshall Albert Kesserling. I was most interested in visiting the Kreigsmarine Memorial in Northern Germany. Of course, we all were excited about meeting the last official head of state of the Third Reich and the man who commanded the dreaded Kreigsmarine. All the other historical sites we would visit and all the great items we hoped to acquire along the way would just be an extra bonus.
We all met to discuss our plans at a meeting of the OVMS held in Cincinnati shortly before we were to leave on our European excursion. As soon as the word got out that we were going to meet Grand Admiral Donitz, another friend wanted to join us to meet his idol, the Grand Admiral. His name was Wolfgang Sell and his father was a former soldier assigned to the famous Afrika Korps and had fought under the equally famous German General Erwin Rommel. However, his father had been taken prisoner and sent to America to serve out the rest of the war as a POW in the Aliceville, Alabama, prisoner of war camp. Upon release and sent back to Germany after the war, he decided to make America his new home and came back to marry and bring his children up near Cincinnati, Ohio. However, his mother and brother, who had served in the Kreigsmarine remained in German and resided in the city of Kiel, Germany. Wolfgang visited his grandmother and uncle at every opportunity and kept in close contact with them. As a matter of fact, "Wolfie", as we affectionately called him, was planning to visit his grandmother during the same period we were touring Germany. He jumped at the opportunity to meet his idol, "the great naval hero the war produced". We poked fun at him, but deep down we also wee thrilled at being given the opportunity to meet a man who had altered the course of history and that of naval warfare as well as being a noted personality of World War two. We also realized the Wolfgang could be an asset to us as he spoke fluent German and knew the country quite well.
My vacation to Europe was one to be remembered, but that is an entirely different story in itself. What is important to this story is the information I received as a result of the short interview I had with Admiral Donitz. It can't be disputed as it came from, so to speak, "directly from the horse's mouth". Some critics may say that the Admiral was an egotistical old man, living in the past and probably had a dim memory of the events that happened over 25 years in the past. (At the time of our meeting, Admiral Donitz was 74 years old. However, as far as I could tell, he appeared as alert in June of 1969 as he was when commanding one of the greatest and most feared naval forces in the world at that time. He did make some minor mistakes in his statements, none that important, but now proven by official records. However, all of which had to do with the diamond badges other than the Submarine Badge with Diamonds and the Auxiliary Cruiser Badge with Diamonds. I will make a commentary after my report of our meeting.
The vacation adventure started on board with an eight hour flight from New York City to Amsterdam. Upon arrival, with jet lag already becoming a problem, we decided to spend the first few days in London and take in the sights of this great city. After establishing our base of operations at the Marble Arch Hotel, we set out to see the sites of the city. The next morning, a Saturday, we experienced the wonders of Porto-O-Bello Road. We also made our first contacts with three of England's noted dealers and collectors of German military artifacts. They were Tony Oliver, Christopher Farlowe, Alan Beadle and Michael Xilas. As the years passed, I developed close friendships with all of them. My friendship and many dealings with Chris Farlowe were an adventure in themselves that could fill a book as he was much like the movie character Monty Python. Tony Oliver was extremely helpful by supplying me many of the rarer medals and badges for my collection during this period of my collecting career. As per Michael Xilas, he and I developed a life long friendship and we have kept in contact with each other to this day. Michael is a familiar face at the MAX and Show of Shows and is the epitome of the true collector and a gentleman.
After our brief trip to London, England, we flew back to Amsterdam and picked up our rental car and proceeded along the coastal highway to Germany. It was almost scenic drive along the dikes of Holland. We couldn't resist the opportunity to stop to enjoy the interesting sites and antique shops as we passed through the many seaport towns and cities along the way. We were looking forward to linking up with our friend "Wolfie" in Kiel. As we entered Germany we encountered great items, especially from the Kreigsmarine, in most of the antique shops. I was in "hog heaven" as I "pigged out" and grabbed up everything in sight. I think I started earning the nick name "Oink" that was given me by Gary and Paul early on in our trip.
After a day or two our ignorance of the German language proved to be a slight handicap. Paul suggested we immediately proceed to Kiel and pickup "Wolfie" and utilize his ability to communicate with the shop keepers. This proved to be the ideal thing we had thought of up to this point. Not hesitating, we proceeded to Kiel and met "Wolfie" and his grandmother and then started the third phase of our excursion.
After picking "Wolfie" up at his grandmother's house, we began the next phase of our vacation excursion. Acquiring items for our collections was one of our primary goals. For "Wolfie", meeting his idol Grand Admiral Donitz was his only goal and the name Donitz would be heard coming from his mouth constantly for the next week. We explained that it was something we were all looking forward to as well, but we wanted to see his wonder country and purchase as many good war relics as could be found. He agreed to assist us in the relic department as he also was collecting items from the Afrika Korps and the Kreigsmarine. The sea port city of Kiel still had reminders of its WWII legacy still visible around the harbor area. The remains of the U-boat bunkers were stark reminders of the days the dreaded U-boat Wolf Packs left to stalk allied shipping. Even after the British had done their best to destroy them at war's end they still stood as ghostly reminders of the once dreaded U-boat force commanded by the very man we would soon meet, Grand Admiral Donitz. "Wolfie" also pointed out an old WWII German Torpedo boat tied up alongside the wharf. The E-Boat was in a sad state of repair and appeared to be deteriorating at a rapid rate. Just a few hundred feet down the dock he directed us to the area where a number of antique shops were located. No sooner than we entered the first show we realized that the "pickings" were more than good and old "Wolfie" knew where they grew. Even the prices were much lower than the other shops we had visited. We couldn't complain, as they were still much lower than in the States. The German laws are very strict concerning displaying anything with a swastika or other Nazi emblem. Many shops would not display such item, but when asked, and they knew that you were a tourist, they would produce the requested item. They were an "under the table" items in most cases. However, in Kiel and down to the central part of the country, most shopkeepers simply used a sticker type label and covered the swastika to prevent it from being seen. It was that way in Kiel and the authorities apparently turned a blind eye. I was now in "Hog Heaven" and began to snatch up everything in sight. It was at this time that I gained my nickname "Oink" as Gary and Paul said I was like a pig and "hogged" everything in sight.
We worked our way back to Hamburg and began to search out the many antique shops. However the prices seemed to go up as soon were recognized a tourists. It was at this time that we utilized "Wolfie's" talents. If we were quoted a price on an item and we thought it was too expensive, we simply thanked the clerk and walked away. We would send in our German/American friend "Wolfie" and like magic the prices would come down sometimes to as much as half of what we had been quoted. The shopkeepers could spot American tourists a block away as simply by their dress and usually carrying cameras around their necks. As Americans our appearance seemed to flash a green light and a dollar sign to the locals. We were as conspicuous as a salamander in a punch bowl and tended to be quoted a higher price once it became evident that we were Americans. We immediately appreciated "Wolfie's" talent and German heritage as the trip proceeded. As for me, I had already spent over half of my funds we had over two weeks to go and more than half of Germany to visit. Almost too late I realized that the only thing that would prohibit me from leaving for home with a suitcase full of war relics was the size of my wallet. If I kept up at the pace I had been going the last half of my vacation would be spent looking at the wonderful places of interest and drooling over the relics that I would not be able to purchase due to depleted funds.
After our second night in Hamburg, I had "Wolfie" to call Admiral Donitz and arrange a meeting date. I also asked him to see it would be all right for me to bring my three friends along to meet him as well. Crossing his fingers, "Wolfie" placed the call and became wide eyed as Donitz answered the phone. "Wolfie" jabbered for a minute or two and hung the phone up. At that moment he immediately started dancing a German Polka all around the room and said that Admiral Donitz had agreed to meet with all four of us at his home three day later and set the time for the meeting for 1:00 P. M. "Wolfie" was beside himself and it took threats of bodily harm to get him to calm down. He was so excited that all do was walk the floor and say, "I can't believe that I am really going to meet Admiral Donitz." "Do you know how important this man is?" He continued. It was Donitz this and Donitz that and he never quelled his excited demeanor until he got tired of hearing himself go on about Admiral Donitz. Paul told him that he was making Donitz out to be as important as the Pope or the President. "Wolfie" said he could roll both of them up into one and they still wouldn't be as important as was Admiral Karl Donitz.
With three day on our hands before we would be meeting the Grand Admiral, we decided to drive north as far as Denmark, stopping along to way to enjoy the sights, especially the Kreigsmarine Memorial on the coast. We would then back track towards Hamburg and go east through the forest to the small town of Aumuhle for our meeting with Grand Admiral Donitz. With only two day now to go we drove towards the small city of Aumuhle on a small narrow two lane road that soon entered a the most unusual forest I had ever seen. The trees grew far apart and there was little or no underbrush to be seen. It look like it was maintained and cared for by a master gardener and not a crooked or bent tree could be seen for miles as we drove through this quite, beautiful, and tranquil forest. We had not seen a gas station or public building for miles and around noon, in the middle of nowhere, we suddenly came across a most unusual hostel off to the left of the road surrounded by small cabins. The grounds were as immaculately maintained. Upon entering the main building we observed that all the female staff members were wearing quaint tradition German outfits, complete with little bib aprons. They were preparing the table for the main meal of the day. We were warmly greeted and the sigh of a feast being laid out was all that I need to see as all we had had was a cup of hot tea and a traditional German Continental breakfast before leaving for Aumuhle. A large communal dining room was located in the main lobby of the building. A large stone fireplace was located at one end of the room, a very large wooden dining table was in the center, and on the walls were the mounted animal heads and other trappings found in a tradition German hunting lodge were part of the décor. All this added to the allure and tranquility of the moment. Just as we finish registering for the evening, I observed a staff member carrying a large serving tray with a large roast, which I soon found out was roast elk, and placed in the center of the table. Other staff members were bringing out large bowl of potato salad, vegetables of all kinds and a large cauldron of my favorite Ox Tail Soup. A select variety of breads and rolls and butter were also placed on the table. Hot coffee, tea, wine or beer was made available as each place setting had a large beer tankard. The beer came from a large keg and was poured into table servers. The table looked good enough for the Lord of the Manor, and I prepared to become "Lord Oink Stump" right there on the spot. I had made my decision at the right time as other guests began appearing and taking their place around the table. I must say that this meal was one of the best I had on this trip or for a long time thereafter. Maybe it was the atmosphere of a hunting lodge, enjoying it with good friends, or both, but it was a meal to be remembered. However, the spell was broken as soon as we retired to our cabin to rest and prepare for the interview the next day.
I laid down for a couple of hours and got up around 5:00 P. M. Even "Wolfie" took a nap and was quiet. However, no sooner had I started laying out my best suit to prepare to look presentable for my meeting with Donitz did "Wolfie" started again with his antics and started the same nonsense that we had been hearing now for three days. "I can believe it is really happening", he said. He was so hyper that if this meeting were being held in December, you would think that "Wolfie" would be calling Admiral Donitz "Santa-Donitz" and he was anticipating an ample helping of sugar plumbs. He was so excited that I looked for him to wet his pants at any moment. Finally he calmed down and we went back to eat an evening snack of cheese, pickles, crackers and German sausages. I tried to memorize the questions I want to ask the Admiral, but decided that it would be best if I had them in written form. Not realizing that I would be looking at them again 30 years later, I jotted them down on a note pad to take with me just in case my memory failed me at the last minute. I set my travel alarm clock and retired to wait the morning. I slept a restless night, as probably did my friends. It was going to be a historical moment for us all and I felt the butterflies in my stomach probably as strong as "Wolfie". As I lay there in the dark, I wondered how a simple school teacher from the hills of Southeastern Kentucky managed to find himself thousands of miles away from his classroom preparing to meet one of the world's most historical personalities in a short few hours.
The next morning we prepared to make the final drive to Aumuhle to meet the former last head of state of the Third Reich. Everyone has transformed themselves from the tacky tourist to presentable looking businessmen. As we drove away from the hostel It suddenly dawned on me that Admiral Donitz was not just the former head of U-boat service, not just the former commander of the Kreigsmarine, but he was the last "Fuhrer" of Nazi Germany. Heck, "Wolfie" was right. I kept my thoughts to myself as we drove into the warm morning July sun. The forest was even more beautiful that morning as the rays of the sun were shining through and between the tall trees. From time to time we could see small groups and pairs of little stags wandering among the trees making for a most picaresque setting. The quietness of the surrounding as well as in the car caused me to almost hear my heart thumping and I had to finally admit that I was experiencing an attack of "Wolfieitis".
Like a ship coming out of a mist we suddenly arrived in the small city of Aumuhle right before noon and noticed the rail station off to our left. I had the admiral's address and we stopped and "wolfie" asked a passerby for directions to the home of the Grand Admiral. Locating the residence was quite easy and we wanted to reconnoiter the area so as not to be late trying to find it at the last minute. It was the largest, or possibly one of the largest, homes in the small town. It was a large white mansion with a large lawn and had a tall wrought iron fence surrounding it. A large wrought Iron Gate was at the front entrance that led to the front door of the residence. Being nearly 45 minutes early "Wolfie" said that we must be exactly on time, not a minute early or late, as the Admiral would expect us to be exactly on time. So heeding his advise we drove down the road and waited until three minutes until 1:00 P. M. and proceeded to drive up to the gate and park. We all were nervously walked up to the entrance and I prepared to announce our presence by knocking with the large brass knocker. Just as I raised the knocker and prepared to bring it down to the brass plate, the door suddenly opened and there stood Grand Admiral Karl Donitz. He was standing as straight as the trees in the forest and looked exactly like his pictures except a little older. I was standing in front of my three companions and Admiral Donitz said, "Herr Stump?" And just as I acknowledge his question and held my right hand out to shake his, he grasped my hand with his and quickly, in an almost jerking manner, pulled me inside and slammed the large wooden door in the faces of my three friends. I was flabbergasted and taken back at what he had just done. He looked at me with a very solemn and stern look and said, "The appointment was with you only Herr Stump, and you alone." As he was saying this, he ushered me down a long hallway to what appeared to be his receiving area or study. From the moment I entered he was gently guiding me with his left hand on my right arm. I stammer back that my friend Wolfgang had called him and informed me that he had agreed to my three friends to meet with him during my interview. About halfway down the hallway, he hesitates and said, "yes, I believe I did tell you friend that, but it is too late now." In a split second the Grand Admiral was standing in front of me, tall and straight. I felt like a junior officer of the Kreigsmarine as he looked at me with his cold eyes and stern look and gestured for me to take a seat. He also took a seat behind a small desk and immediately asked me what unanswered questions concerning the special naval awards did I not understand. It had been nearly two months since he answered my letter and he fully recalled that I was requesting information concerning certain awards, but now he forgot that my three friends were with me after informing "Wolfie" that they could come with me only three day before. I was dumbfounded, speechless and was fortunate to have written down the question that I came so far to ask. I had it in the right pocket of my suit jacket with my two diamonds badges. They were in little felt bags and I took each one out of its bag and laid them on the desk in front of him. He quickly picked up the Submarine Badge with Diamonds and as he examined it, he smiled for the first time since meeting him. Suddenly, he reverted back to the solemn man he had been only a moment before. He looked at me and asked "where did you get this badge?" Startled at his question I stammered that it was a specimen from the West Point Museum. He then picked up my Auxiliary Cruiser Badge with Diamonds and quickly looked at it and indicated for me to continue my questions. Up until this time he has been speaking in rather good English. At times he would speak to me in German and then back to English. This confused me and I just started out telling him, that I was doing research for a book dealing with the medals and badges of the Third Reich. Looking at me with a look of great puzzlement on his face he simply said, "Why?" I immediately knew that I was heading for a down hills ride if I didn't come up with the right answer. I to this day can't remember my exact words, but I indicated that naval history of the world was changed through his efforts and accomplishment in the art of submarine warfare. I added that in America the Kreigsmarine was viewed as being the most interesting branch of the German military. I hoped that through my research I could dispel the many different reports that were being written concerning the special honor awards and present a true and factual report. I said that this could only be accomplished by utilizing his personal knowledge about the subject. I then looked at him with the most sincere expression as I could muster and waited for his response. He seemed to calm down and gestured with his hand for me to continue. I said that my main interest was to accurately report the facts concerning the special awards with diamonds, both the badges and daggers. He quickly stated that he had been the only person to receive an official diamond naval badge during the war and it had been a special Submarine War Badge with Diamonds created especially for him. At that time I thought that all awards were "official" when awarded. He said that Grand Admiral Raeder awarded it to him and that he wore it proudly until it was "stolen" by the British when he surrendered. He asked that during my research had I come across his badge. I told him that I had no information about his badge. He again gestured for me to continue. I then asked about the other Submarine Badges with Diamonds and he said, again picking up my badge, that it was "one of 100 that I had produced in pure silver". He said that it was of his design and that he wanted only the swastika inlayed with "brilliants". I next asked him if one firm had made all the badges or did other manufactures produce the diamond badges. He emphatically stated that the firm of Schwerin, Berlin, was the only firm to produce the Submarine Badge with Diamonds. (I was later informed by Dr. K. G. Klietmann that the firm of Godet & Co., Berlin, had produced the special Submarine War Badge with Diamonds awarded to Donitz by Raeder. Klietmann emphasized that that badge was the only "war" badge with diamonds ever issued during the war.)
I next switched my questions to the other naval badges with diamonds and asked Donitz how many different badges were produced. He said that the Submarine, Auxiliary Cruiser and E-Boat were the only three badges to be presented and none were recognized by the government as official awards. Only Grand Admiral Raeder or himself awarded these special awards and only to "Outstanding Commanders or officers who had been awarded the Knights Cross with Oak Leaves for outstanding bravery."
I was about to ask about the special daggers with diamonds when he cut me off and switched the subject to himself. He asked if I was aware that he was considered to be one of the most important people in this century and had been instrumental in changing world history. Said that German's battles against Bolshevism been justified by looking at the way the world was today. He pointed out that he had been unjustly punished for his role in the war only because of the British and Russian insistence that he be held responsible. He continued saying that because Hitler had held him in the highest esteem as a military commander and had "willed him the fate of Germany," added to the reason he was sent to prison. Then, he took out a photograph of himself in full dress uniform taken during the war from a desk drawer and asked me if I would like a photograph of him as a remembrance of my visit with him. He signed the photo, smiled and said, "Herr Stump; the interview is now concluded." He handed me by two diamond badges as quickly as I had entered I found myself being escorted to the door. After a quick handshake, found myself on the outside hearing the door slam shut behind me. Still in a semi-daze, I walked to the car and realized that in less than 20 minutes I had met the Grand Admiral of Germany and failed to get all of my questions answered. Sometimes history can be changed in the blink of an eye, but my interview had ended only scarcely longer. I asked myself it this trip had really been worth the effort. I had even forgot to ask if I could take one simple photograph of the Grand Admiral. After all, I had my camera in my brief case. I asked myself out loud did this really happen all in little over than 15 minutes? I was one disappointed hillbilly, but my disappointment was matched by the looks on the faces of Gary and Paul, and the near tearful "Wolfie". For me, despite what had happened, this was one experience that I would never forget.
As we pulled out and headed back towards Hamburg, my friends looked at me and started to laugh. That is all except "Wolfie". He literally took a fit that lasted all the way back to Hamburg. His "idol", his "hero", the "greatest naval hero that Germany had ever produced" was now being described as the rottenness, dirtiest, and sorry no good S. O. B. who ever lived. He said that Donitz should have been hung with the other Nazi leaders at Nuremberg. He every remark gave us all make light of him all the way back. Deep down they were disappointed as "Wolfie", but controlled and tried not to show their true feelings. I was about as disappointed as everyone, but at least I got to have my interview, ever so short that it was. I also acquired some very good information that I later passed on to the collecting world. As we continued back along the forest road, I could say that I had met and interviewed the last Fuhrer of the Third Reich, the Commander of the mighty Kreigsmarine and the founder of German's dreaded U-Boat force and all in less than 20 minutes. I didn't dare brag about my small feat in front of my friends that day, but have ever since.
Looking back in retrospect, the information I received from Admiral Karl Donitz is more important to the collector than it seemed to be at the time. Of all the U-boat Badges with Diamonds that I have seen, and verified to be original, are all produced by the firm of Schwerin, Berlin. Admiral Donitz verified that fact up to a point. While the records show that Godet & Co., Berlin, also produced a Submarine War Badge with Diamonds, (The Raeder award to Donitz), but I have yet to see one in all the years I have collected. This isn't 100% proof that they didn't make others, but I would have to see one to believe it. The "100" Donitz said he had produced in "pure silver" are hard to document. Some badges were produced in silver, but all that I have seen in silver have the large diamond swastika and are considered to be the First Type. However, all other badges that can be attributed to the recipients that still have their badges, or are verified to be theirs now in private collections or museums, is the Second type with the smaller diamond swastika. Prime examples are the badges of Otto Kretchmer and Carl Emermann. Even at the time of my interview with the Grand Admiral, records showed that many badges were produced by Schwerin, Berlin, for museums and for private purchase or for replacements. We must remember that these badges were private awards from the Commander of the Kreigsmarine. They were not subject to government control and no set standards for production or distribution existed as far as I could ever determine. I will not set this statement in concrete, as I may be proven wrong even today.
Finally, moving from 1969 to the present I want to address the situation concerning the many variations of Kreigsmarine badges with Diamonds now found in abundance on today's market. If Admiral Karl Donitz knew nothing about the Mine Sweeper and Escort Badge with Diamonds, the Destroyer Badge with Diamonds, the 2nd Model E-Boat Badge with Diamonds then how do they now suddenly show up out of nowhere and in record numbers? The answer is a simple one. They are modern post war reproduction or to put it bluntly, they are out and out fakes. Of course there is a remote possibility that a few prototypes or tool room copies may exist. However, that is a very remote possibility.
On the topic of the modern fakes, I wish to go back what prompted me to begin this story: The U-boat Badge with Diamonds on ebay. At first glance the badge look original, but the photo looked a bid odd and out of focus. However, take a closer look the diamond swastika appears to be soldered to the swastika of the badge off center. Others have told me the same thing. The seller has letters of authentication, but I can't see Schwerin producing a "cock-eyed" badge. Maybe I am wrong, but it sure looks as such. I was also asked about what criteria one should use if thinking about purchasing a badge of this kind. I will again say that unless a badge of this type doesn't come with 100% proof of origin, I would not spend a great deal of money on it. It is very easy to produce a submarine badge with diamonds exactly like a war production badge and under $1000.00. I now this to be true because I made one for my display and I wanted it to be as close as possible to an original. I had one produced so close to an original that "only your hairdresser could tell the difference". In my case, only my jeweler could. I hired a professional jeweler and gave him the exact dimensions that is found on the 2nd type Submarine Badge with Diamonds. He used original European cut diamonds and when he finished all I would have to do is solder it to an early Schwerin produced fire gilded submarine badge. I chose to glue the diamond swastika to the swastika my quality badge and I have a great looking Submarine Badge with Diamonds. It is so close to an original that Admiral Donitz would have been proud to pin it on the uniform of one of his submarine aces. If I had my jeweler solider it on today, I am sure that it could be sold on ebay for upwards of $4,0000 or pass as an original on any of the current auctions along with the other fake diamond badges being sold today. As per the many diamond naval badges that are being offered today without providence, I would not recommend touching any with a hot poker from Lucifer's furnace.