by Sebastián Bianchi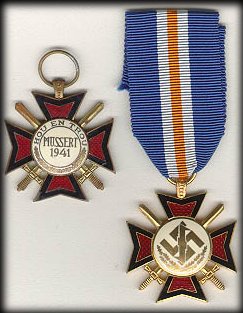 Mussert Cross
The Dutch Nazi Party "NSB" under the leadership of Anton Mussert instituted a special Bravery and Merit award for NSB members in German Service. This award commonly known as the Mussert Cross comes in two classes; with swords for combatants and without swords (very rare) for non-combatants. The cross is made of three parts from enamel and high quality gilt finished metal. The outside edge of the cross is in black enamel on both sides with inner portion finished in translucent red. A separate white disc is soldered to the front and back of the cross. The front side shows gilt wolf hook over swastika with oak leaves. The back side shows around the top edge of the circle the motto of the NSB in gilt "Hou En Trou" and oak leaves on the bottom edge. The center of the disc has the name "MUSSERT and date 1941."
The ribbon shows the Dutch National Colors. From left the right the ribbon colors are sky blue, white with thin orange strip to the center, white and sky blue. The award came in a two piece maroon outer card case. The award was never authorized by Hitler to be worn on German uniforms.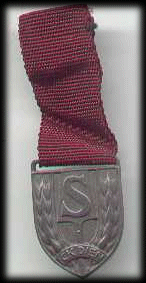 Above is the miniature medal for the NAD (Nederlandsche Arbeidsdienst, or Dutch equivalent for RAD) sports medal. Purple ribbon with tinny medal with
The text reads:
"Ick Dien" or I serve.
This is supposed to go with a large medal, which I myself haven't seen nor found in any books (yet).


Above is a medal for the WA, de Weer Afdeling of the Dutch Nazi Party NSB, it is to commemorate a special march this force made in the Christmas period of 1942.
In the front, there is a portait of Antoon Mussert, leader of the NSB, with round this portrait, the words "Nationaal Socialistische Beweging" and below "Leider Musser", standing for "National Socialistic Movement" - "Leader Musser". On the back then "WA Marcheert - Kerstmarsch 1942 - Hou Zee", or WA marches - Christmas March 1942 - Keep steady (as David Littlejohn translates it in Foreign Legions of the Third Reich, vol. 2).
Also in this case, never seen a picture in a book, nor one on a uniform.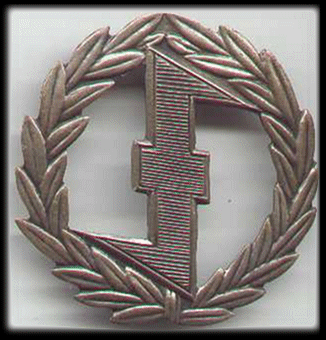 The silver WA sports medal. It was also issued in bronze, for members only.


Top of Page

| | |
| --- | --- |
| © Copyright Wehrmacht-Awards.com LLC | |