Content - Richard Lundström
Layout - Sebastian Bianchi
Related Objects
Austro-Hungarian Ribbon Bars-
Like tsarist Russia, the Habsburg Empire's military came late to use of ribbon bars, wearing either full medals or none at all until about 1916. These ribbon bars are shown only to distinguish them from the German types. It is also unfortunate that a book has been published erroneously referring to the south German style as Austrian, and this brief section hopefully will lay that mistake to permanent rest. First World War Austro-Hungarian ribbon bars were 40 mm wide, the existing width of their normal trifold medal mountings.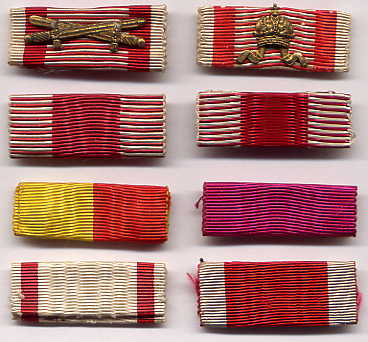 Note the always gold crossed swords on the universal war decorations ribbon at top left. Introduced in December 1916 and applied retroactively, this basically distinguished frontline from staff awards, and could be worn on all WWI decorations except for the six grades of Bravery Medal. German recipients virtually never applied retroactive swords devices for awards made before this date.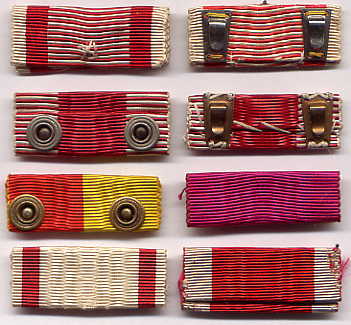 The usual method of attachment was either to clip of fold over and snap the ribbons on the horizontal "strings" sewn to tunics for wearing full medals. Given the profusion of Austro-Hungarian ribboned awards, this was still rather impractical.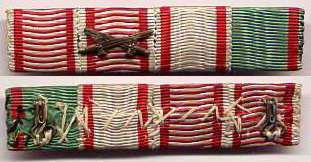 This bar is a variant type, with ribbons exactly half width-20 mm instead of 40 mm. The Turkish Osmanie Order in last place is 25 mm and hence partially overlapped. The Turkish ribbon indicates this man was an officer, so the deviceless first ribbon probably was for a Military Merit Cross-Austrians do not seem to have ever used the round gold "war decoration" wreath device for this award the way German recipients did.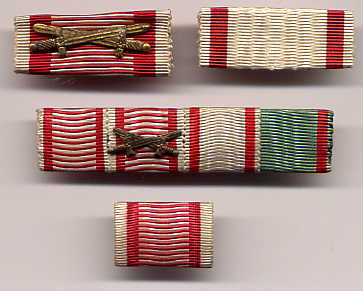 Finally, here are size comparisons with each other: the normal 40 mm size, the variant 20 mm size, and a single ribbon as worn by a German holder of an Austrian bravery award, 25 mm. After 1938, of course, former Austrian veterans wore the German styles of ribbon bars.
Lapel Bows and Rolls-
The basic 15 mm size for German ribbon bars was originally derived from civilian lapel ribbons of the late 19th century. Here are a four examples of various types as worn after the First World War;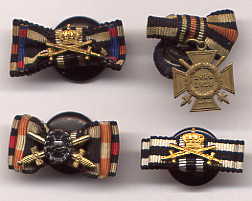 At upper left, the gold crown and crossed swords here indicate that the second "Iron Cross" ribbon actually represents a Prussian Hohenzollern House Order 3rd Class with Swords. Although the Hindenburg Cross was obviously a combatant type, only the "senior" swords device was normally worn. At upper right is a miniature Honor Cross for Frontfighters aka Hindenburg Cross. Before WW1, many miniatures were worn beneath bows on a small brass bar with attachment loops. At lower left, note the 1918 Army Black Wound Badge superimposed over swords for the Hindenburg Cross. This was quite common for lapel bows, but will NEVER be found as an original RIBBON bar device-presence of one of these on a ribbon bar is a sure sign of a fake. At lower right is an "under-ostentatious" 9 mm size double bow, again for a holder of the prestigious Hohenzollern House Order with Swords.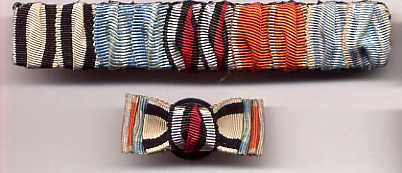 This rare WWI noncombatant Iron Cross ribbon bar and matching lapel bow belonged to a Bavarian military official (Beamter), either of officer or NCO status. The south German style ribbon bar is typical of Bavarian bars.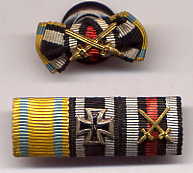 RV
This former Saxon enlisted man's ribbon bar and lapel bow pair show the transition from 1934 (ribbon bar) to 1935 (lapel bow) precedence, former kingdom-before-Prussia wear being altered to 1914 Iron Cross always first.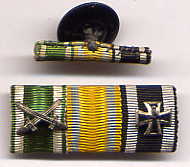 RV
This duo from the 1920s shows the less common lapel roll-note that all three ribbons are woven as one piece, since this was a common Saxon trio-with a matching ribbon bar, including the ever popular miniature EK2 device.
Convertible Medal/Ribbon Bars-
When was a ribbon bar not a ribbon bar? When it could be worn with full dress medals attached.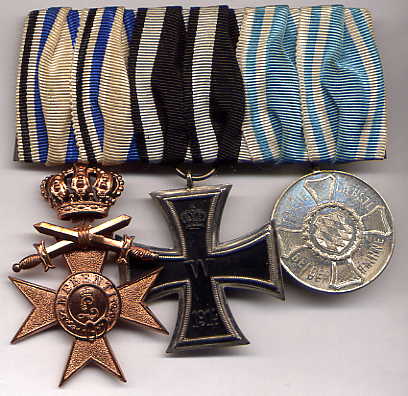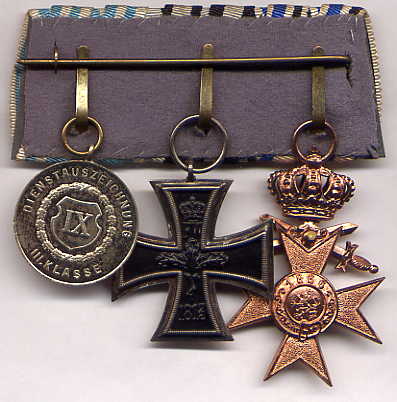 TP
This dual use Bavarian hook back style was actually worn by all ranks, from private to the King, as both an oversized ribbon bar and, by simply sliding the awards on back, as full dress-a thrifty compromise.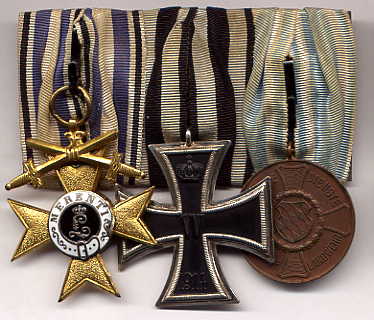 TP
Bavarians also used a less aesthetically pleasing style with visible spring clips on the front [illustration 140-caption "TP"] to serve the same double purpose. Note absence of hooks on back-less rubbing damage to a uniform, but a more unsightly style. Some officers, as will be seen later in the article, preferred this "flat bottom" style, with awards sewn in permanently. This is unfortunately the style bar-being easiest to forge-most commonly faked today. Check all medal bars, like ribbon bars, for sensible combinations, rationally mounted, with original parts and construction.
The original 19th century Prussian style medal bar for all ranks from the 1870s on was worn almost entirely only by junior enlisted personnel. Though it managed to hang on into the 1930s, this plain and ugly style was in little favor after WW1.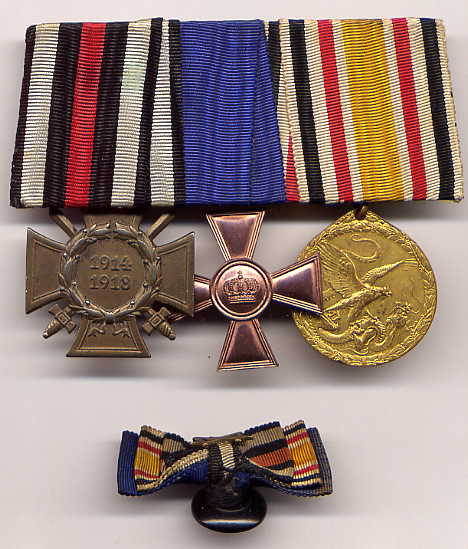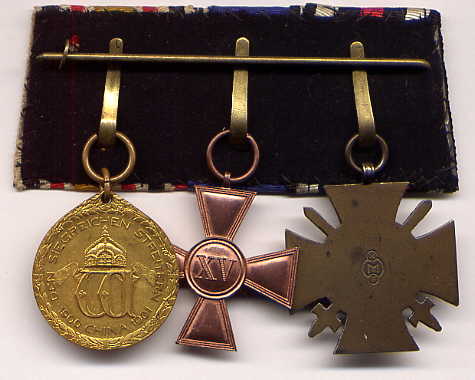 Note the transitional mounting of the 1900-1901 China Campaign Medal after the XV Years Long Service Cross-pre-1918 precedence-on the medal bar, whereas the matching ribbon bar places the two campaign medals in 1935+ order first.
Simply slipping the awards on and off the reverse hooks changes from oversized ribbon bar to full dress medal bar. No one but the most miserly of cheapskates wore this style in the 1930s. I have never seen an original example with WW2 only awards. Full dress awards were rarely worn after 1939 in any case. The south German style, however, held on, and can be found as late as 1942.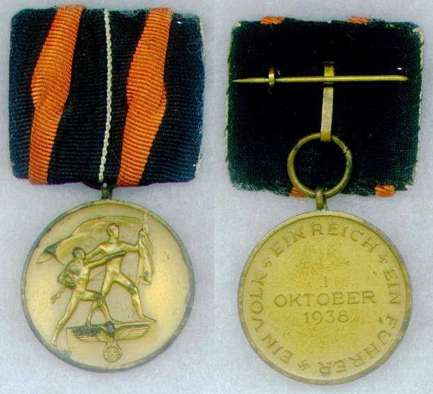 GS
This example, an October 1938 Sudeten Medal, was probably proudly worn as semi full dress on a service uniform worn as walking out order. Convertible bars like this enjoyed great popularity in 1940, with the return of many demobilized veterans of the victorious campaigns of 1939-40. These would not have been worn as ribbon bars at the front, of course, but were a cheap but showy compromise for men who may not have even been issued a pre-war dress uniform at all.
Medal Bars With Matching Ribbon Bars-
These examples are just shown to illustrate that each ribbon did indeed represent a specific award, matching the smaller representation.
This "flat bottom" south German medal bar and rather atypical Prussian style M1915 matching ribbon bar, are part of a complete group with award documents etc which belonged to then Oberleutnant dR Friedrich Lautenschläger (1882-after 1943), dismissed as a Regierungsrat from Third Reich civil service, but recalled as a Major dR zV for home district duty in WW2. The awards in this medal bar are sewn in, not removable.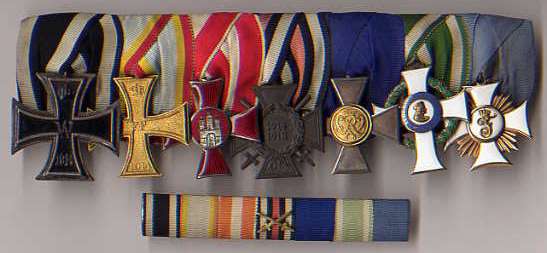 The next matching medal bar and ribbon bar belonged to char. Korvettenkapitän dSW1 aD Paul Wiehr (1868-after 1937), an anti-submarine officer in WW1, but Commodore of the Hamburg America Line in the 1920s and early 1930s, Captain of Hapag's flagship ocean liner "Albert Ballin." The unique combination of his awards (he also held a Commander grade pre-WW1 Persian Order of the Lion and Sun, of all things!) made identifying Wiehr possible. Note that the Commodore's pre-WW1 Saxon Albert Order-Knight 1st Class and Württemberg Friedrich Order-Knight 1st Class are in the peculiar precedence of either "Reichs" orders (the "Prussian" XX Years Reserve-Landwehr Service Cross being in this case for Imperial Navy Reserve-Seewehr duty), or the Third Reich's "pre-1914 awards last" regulations.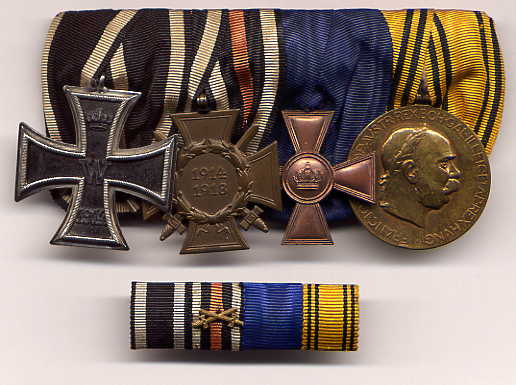 Unfortunately untraceable, this ex-NCO's group shows from the Emperor Franz Joseph 1908 "Inhaber" Jubilee Medal that he belonged to one of the German regiments whose honorary Colonel-in-Chief was the elderly Habsburg ruler. Absence of other awards suggests that this NCO most likely served in Husaren-Regiment 16 in Schleswig-Holstein. Since the exact same ribbon was used for the Austro-Hungarian 1912-1913 Mobilization Cross, which was never awarded to Germans, having the full sized medal bar still together with the ribbon bar identifies not only what the plain generic blue long service ribbon was for, but which class of the 1908 "Inhaber" Jubilee Medal this was.
West German Ribbon Bars-
Finally, we note ribbon bars after WW2.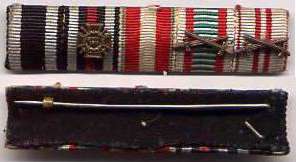 RV
Some veterans and civil servants preferred a style exactly the same as that worn previously, and which are only distinguishable as post war by presence of a Bundesrepublik award (the 25 Years Fire Department Long Service ribbon common to three of the federal Länder in 3rd place) and the return of precedence for foreign awards in the order they were received (note the 1928+ Hungarian WWI Commemorative Medal ribbon in front of the 1933+ Austrian equivalent).
Serving members of the West German armed forces, however, utilized a distinctive M1957 type of ribbon bar, with 25 mm (and wider, for more senior awards) ribbons, and pinback or other originally non-medal bar awards worn as miniatures on ribbons.

This member of the Bundesmarine wears a combat Minesweeper's badge before the lowly KVK2X "Sitzfleischorden" and then a 4 Years Service Medal-note that both this and the Minesweeper Badge have had swastikas removed in current authorized wearing versions.


MD
This Bundesheer member shows M1957 versions of a WW2 wound badge and Infantry Assault Badge. This style ribbon bar remains regulation to this day.
Top of Page

| | |
| --- | --- |
| © Copyright Wehrmacht-Awards.com LLC | |