by François Saez & Paul Williams
Part I: Description & Construction
"Für besondere leistung im Luftkrieg"

Established in February 1940, the Ehrenpokal was awarded by the authority of Reichsmarschall Hermann Göring to Luftwaffe personnel "for special achievement in the airwar". This was an award for aircrew only. Funding for the production of the goblet was provided by the German Aviation Industry.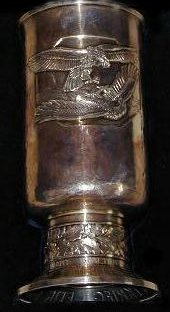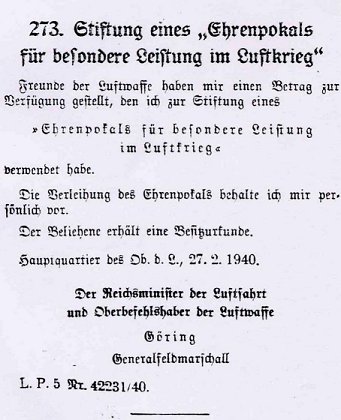 The original order establishing the Honour Goblet or Ehrenpokal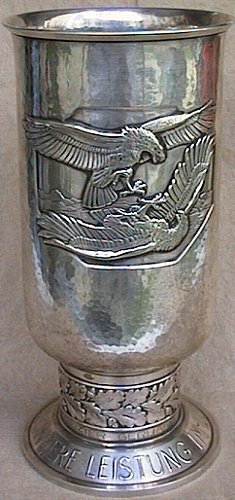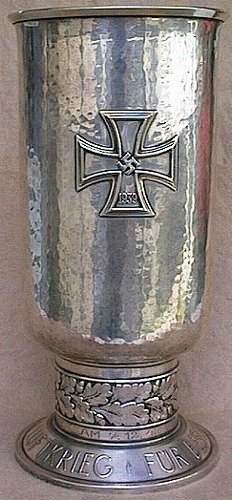 The design reflects that of the World War I goblet, the "Ehrenbecher für Sieger im Luftkampf". Superbly crafted by the firm of Joh. Wagner & Sohn in Berlin -the sole manufacturer - this 'non-portable award' bridged the gap between the Iron Cross 1st Class and the German Cross in Gold or Knight's Cross.
Technical Information
Two types of Ehrenpokal were awarded during the war, distinguishable solely by the metal used in their manufacture.
The first goblets were constructed from 835 fine silver. Later awards were manufactured from silver-plated "Alpaka", an alloy of copper, nickel and zinc, also known as "German Silver". These began to appear from the first half of 1942.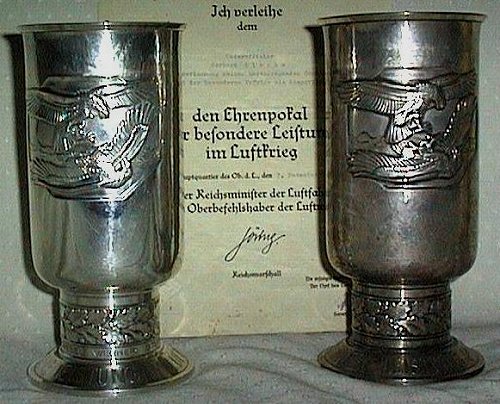 Example to the left: 835 Silver, example to the right: Alpaka

Four views of the recipient's details engraved on an Alpaka Honour Goblet
Unteroffizier Gerhard Glock 7.12.42
The manufacturer's trademark as well as an indication of the metal used in construction was stamped on the underside of the cup. The following images show the location and type of markings to be encountered: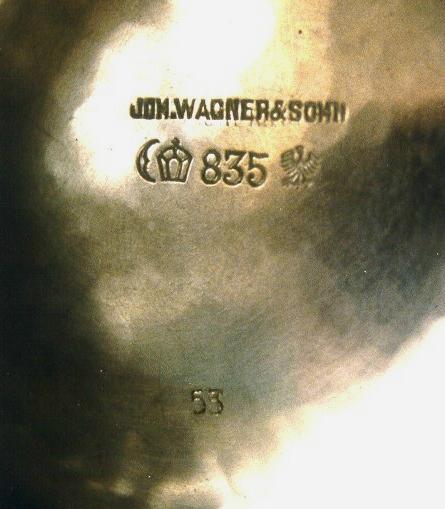 The author has noted on some 835 silver goblets an additional number ("53"). The significance of this has not been determined ... possibly a production number or delivery number?
These markings are from the Ehrenpokal awarded on 19.12.40 to Oberleutnant Walter Schneider a member of JG 26 Schlageter.
Construction
The Ehrenpokal is made up of three parts: the cup, stem and base
These parts are formed from strips of silver or German Silver upon which the various motifs - eagles, iron cross, oakleaves & acorns, and inscription "für besondere leistung im Luftkrieg" have been die struck.. The cup has an overall fine, hammered effect
Cup
Stem
Base
The underside of the cup are formed from a convex circle of silver.

The recipient's details are engraved on the stem of the finished product.
Traces of soldering seams will be evident (see photos below)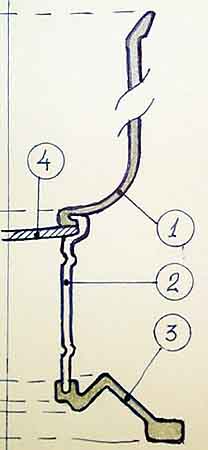 'Inside' the 835 silver Ehrenpokal of
Major Rudolf Schoenert, awarded January 1942


Photos © Rusfront
The authors have made a detailed study of seven original goblets - two silver and five Alpaka. The following table provides the average data for the two types:
| | | |
| --- | --- | --- |
| | Silver "835" | Alpaka |
| Height (mm) | 203.2 | 206.5 |
| Weight (G) | 420 | 400 |
| Diameter of base (mm) | 100.3 | 97.7 |
| Diameter of cup (mm) | 90.6 | 90.2 |
| Diameter of ring (mm) | 59.5 | 59.8 |
| Diameter of opening (mm) | 97.5 | 101.6 |
Top of Page

| | |
| --- | --- |
| © Copyright Wehrmacht-Awards.com LLC | |