By François Saez and Paul Williams
Luftwaffe airmen undertook rigorous periods of instruction to qualify as pilots, observers, pilot-observers, wireless operators, airgunners, flight engineers or glider pilots. Upon completion of this specialist training they were entitled to wear a badge which reflected their specific qualification. Amongst collectors of German militaria there is general agreement that these badges are works of art both from a design and a manufacturing perspective. Original examples are highly valued and vigorously pursued. Readers can access comprehensive information about each of these at the Luftwaffe Badges section of this site.
When nestled in the hand of an enthusiast, these badges frequently stimulate reflection on the exploits and bravery of the men who served in the Luftwaffe. 'Household' names such as Rudel, Hartmann, Galland, and Schnauffer may be evoked, or a general image of the Luftwaffe flyer may be formed in the 'mind's eye', perhaps an image representing the many thousands of airmen who served their country. "If only this badge could talk" is an often heard phrase.
Unfortunately, in the vast majority of cases, the identity of the original owner of the badge will be unknown and its link with specific historical events has been lost, forever. However, a closer, more intimate association with contemporary events is possible through a study of the documents which accompanied the award of qualification badges to airmen ... the Luftwaffe Verleihungsurkunden ('award or conferment certificates').
An example of the certificate which accompanied an award of the Pilot Badge in 1943. It reads:



Award Certificate

I award
(rank and name of recipient)
the Badge for

Pilot

Berlin, (date certificate signed)

The Minister for Aviation
and Commander in Chief of the Luftwaffe

per order of
the Chief of the Luftwaffe Personnel Department

certificate number and facsimile signature of the then incumbent - Generaloberst Bruno Loerzer




(click on the document to examine the finer detail)

These certificates are found in two sizes:

A4 - 210mm x 298mm (1935 to early war)
A5 - 150mm x 210mm (mid to late war)

Both within and between the "large" and "small" documents, there are observable differences:

I) The style of the Luftwaffe eagle:

A 1938 dated, A4 size Pilot Badge document

A 1943 dated, A5 size Pilot Badge document
II) The Style of the Lettering,
A 1940 dated, A4 size Pilot Badge document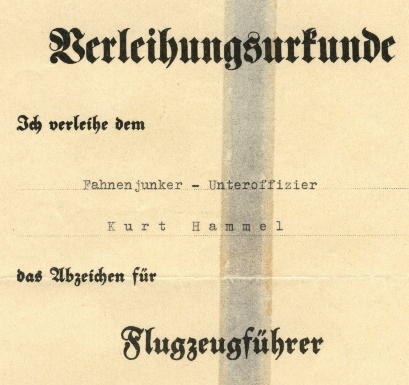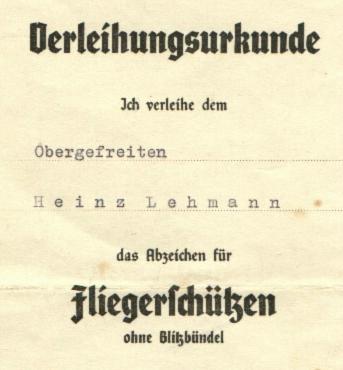 Aircrew Documents - a Research Project
Some sense of the value of collecting / examining documents may be gained by exploring the outcomes of an informal research project conducted by members of the Wehrmacht Militaria Discussion Forum.

In December 2000, Chris Boonzaier (Germany) requested that collectors who owned or had access to Pilot Badge documents provide the numbers and date to be found thereon. Members enthusiastically responded by sending a range of data which enabled increasingly rich and valuable discussion. The scope of Chris's initial posting was significantly expanded when Francois Saez (France) provided details of a Flugzeug - Beobachter (Pilot-Observer) Badge document, asserting its relevance to the thread thus:
graduates of all categories of aircrew received documents from the RLM
(Reichs Air Ministry) which were sequentially numbered .... at any given time
this number represented the total number of graduates with an aircrew-related
qualification since the inception of these awards in 1935.
From this shared information it is clear that the number appearing on a document is not an indicator of the numbers of persons who had qualified for that particular badge up to that time, but that it represents the total of awards to all categories of aircrew.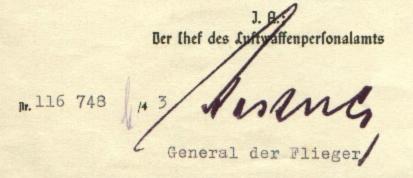 Detail from a February 1943 dated Air Gunner Badge certificate. One gets a sense of how many airman had achieved a qualification by that time of the war!
Further data and discussion led to the observation that the certificates for the Retired Pilot Badge and the Paratroop Badge bore a different numbering system.

The date on the certificate is the date it was signed by the Chief of the Luftwaffe Personnel Department - this date may differ from the actual presentation or graduation day by up to 15 days.

| | |
| --- | --- |
| | From around mid-1944, certificates ceased to be issued from the RLM and became the responsibility of training units. These documents are not numbered and may show further variations in wording and lettering styles. One also sees the emergence of field-made and typed documents. |
| | |

Forum contributor Mike Kenny (Australia) has generously compiled data from over ninety-five Luftwaffe documents into a spreadsheet (MS Excel format). This extremely valuable resource may be accessed by clicking on this link:

Luftwaffe Documents Spreadsheet

From this spreadsheet one can roughly estimate the number of Luftwaffe personnel who gained a qualification from 1935 to around mid-1944.
Take note of the number on the listed Flieger-Erinnerungsabzeichen (Retired Pilot Badge) document dated November 1943 .... number "403". This pointer to the rarity of a much discussed award may be invaluable to the vigilant Luftwaffe badge collector!

The first certificate on Mike's list was issued in 1935 and is numbered "30" - readers may examine this document in Forman's guide (reference below).

Though the sample of documents is small, it is interesting to note the ranks of airmen at the time they gained their qualification.

Note that very few Glider Pilot Badge documents were included ... a rare item!

The Unqualified Air Gunner Badge (Fliegerschutzenabzeichen ohne Blitzbündel mit schwartzem Kranz) was introduced in April 1944. Not surprisingly only one certificate is documented in the spreadsheet - this document is pictured in Detlev Niemann's book (see reference below). An even rarer non-RLM issue certificate for the Unqualified Air Gunner Badge is featured in the relevant section of this article.

The word "Zweitschrift" typed at the top of a certificate indicates that it is a copy, issued as a replacement for the original. These documents bear both the original date and the date of reissue.
Bibliography and Thank yo
The authors wish to thank the following document contributors - Gene Ashton; Carsten Baldes; Chris Boonzaier; Ian Jewison; Mike Kenny; Rick Lundström, Jean-Yves Nasse; Detlev Niemann; François Saez; Paul Williams; Kai Winkler.

Angolia, J.R. (1976) For Fuhrer and Fatherland - Military Awards of the Third Reich. Vol 1. San Jose, Ca: R. James Bender Publishing. Forman, A. (1996) Forman's Guide to Third Reich German Documents And Their Values. Vol 2. San Jose, Ca: R. James Bender Publishing. Mehner, K. & Tauber, R. (1996)
Die Deutsche Luftwaffe 1939 - 1945 Schriftenreihe - Fuhrung und Truppe. Norderstedt, Germany: Militair-Verlag Klaus D. Patzwall.
Niemann, D. (1999) Bewertungs-Katalog - Orden und Ehrenzeichen Deutschland 1871-1945. Hamburg: Niemann Verlag
Top of Page

| | |
| --- | --- |
| © Copyright Wehrmacht-Awards.com LLC | |