By Paul Kennedy and Sebastián Bianchi
The tank destruction badge in silver was instituted by Hitler on March 9, 1942 to honor individuals who single handedly destroyed an enemy tank with hand held explosives. This award was made retroactive to the beginning of the invasion of the Soviet Union (June 22, 1941).
As individuals earned multiple badges, it became evident that a higher class was needed. Therefore on December 18, 1943, a gold class was instituted to signify the single-handed destruction of five tanks.
The tank destruction badge consists of a blackened 43mm X18mm Panzer Mk IV tank attached to a 33mm X 88mm silver ribbon. The tank is attached to the ribbon by three prongs bent over a small oblong metal plate, and covered with black cotton. The silver ribbon includes a 4mm black cotton stripe running horizontally 2mm from the upper and lower edges of the ribbon.
The gold award is the same with a few notable exceptions. The ribbon is made of gold cellon or gold bullion wire, and the early awards include a silver wash on the tank. Later awards use the blackened tank of the silver class.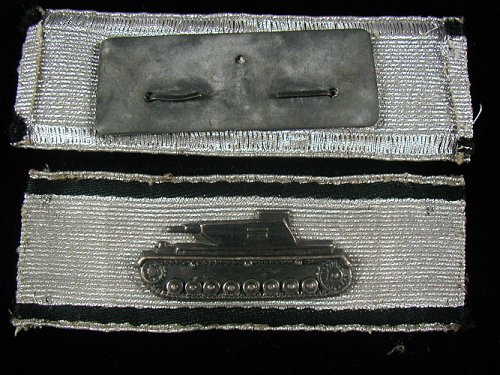 S. Bianchi Collection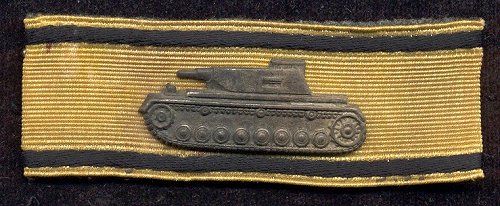 Private Collection
Presentation, Wear and Documents

Upon presentation, the badge was pinned to the right sleeve of the recipient in a ceremony and was later sewn on the uniform by the individual.

The silver badge was worn on the upper right arm of the tunic with subsequent awards being attached directly below the first one until four were attached at one time. On the award of a fifth badge, the four were taken off the uniform and replaced with a single gold badge. On the award of a sixth badge, a silver class was attached below the gold class. The process repeated itself until a tenth badge was awarded, then the silver badges were replaced by a second gold badge. Again, the process continued until the fifteenth award, then the twentieth, and so on.

The highest number of awards given to a single man were twenty-one, awarded to Oberstleutnant Gunter Viezenz (pictured to the left).
Award Criteria
The tank destruction badge was awarded to soldiers who destroyed an enemy tank single handedly by a hand held weapon. Anti-tank units were not eligible for this award.
Silver Award: The single handed destruction of an enemy tank by use of hand held weapons such as a hand grenade, panzerfaust, satchel charge, etc.
Gold Award: The single handed destruction of five enemy tanks using hand held weapons such as a hand grenade, panzerefaust, satchel charge, etc.
Top of Page

| | |
| --- | --- |
| © Copyright Wehrmacht-Awards.com LLC | |