by François Saez & Paul Williams
Part V: Documents
The award of the EHRENPOKAL was also documented in the recipient's Soldbuch (entry dated 26.10.42 pictured left) and Wehrpass (corresponding entry pictured right).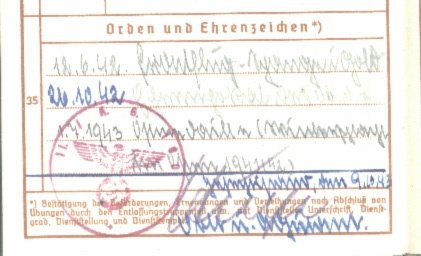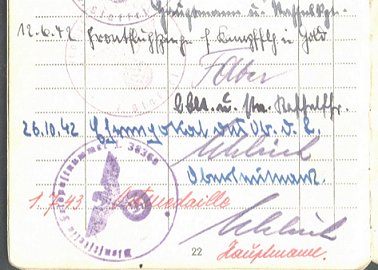 Recipients' details were published in the "Ehrenliste der Deutschen Luftwaffe", a regularly issued bulletin which also recorded awards of the Deutsches Kreuz.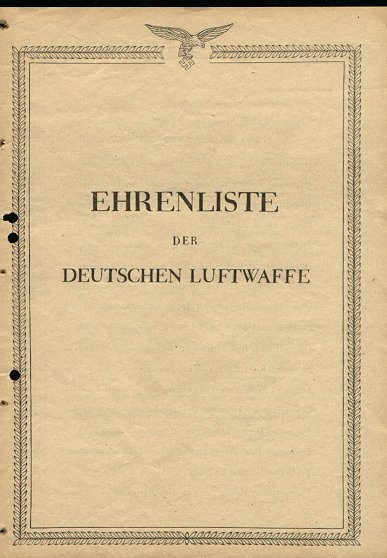 The following page from the Ehrenliste highlights the wide variety of aircrew who could receive the award - not only pilots, but radio operators, air gunners, flight engineers, navigators and meteorologists.
Note that the date engraved on an individual's EHRENPOKAL may differ with the issue date of the Ehrenliste in which their name appears - by up to 20 days.
Reproduction Documents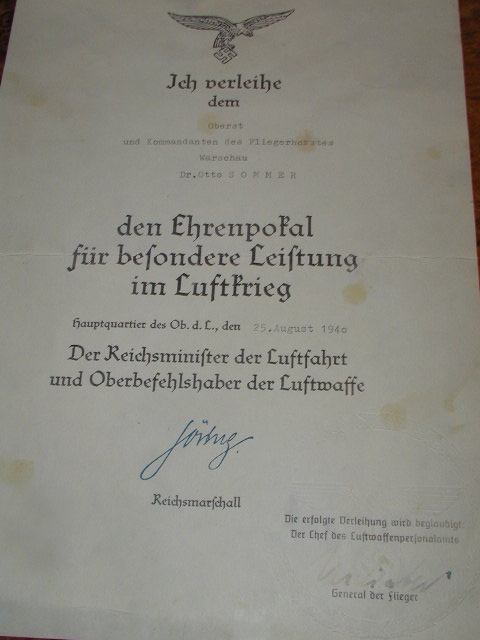 Compare the detail of this fake document with Gerhard Glocke's original (pictured left). Spot the differences. Readers may draw their own conclusions ...........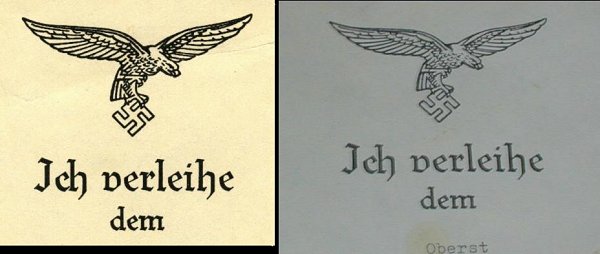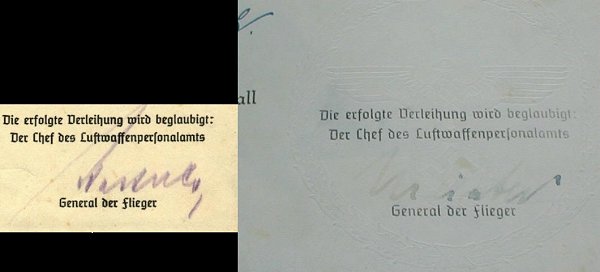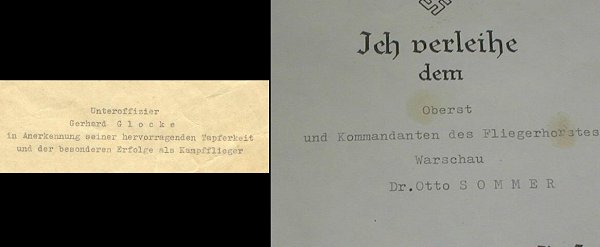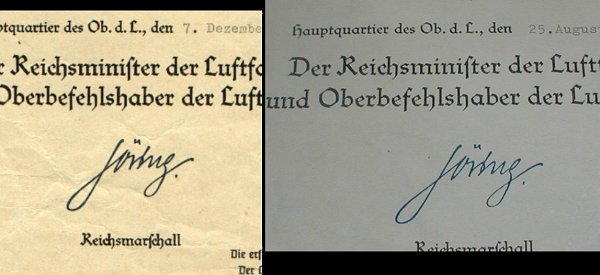 References
Ailsby, C. (1987) Combat Medals of the Third Reich.
Angolia, J.R. (1976) For Führer and Fatherland - Military Awards of the Third Reich. Vol 1.
Calero, J. (1997) Le Gobelet D'Honneur De La Luftwaffe.
Davis, B. (1992) The Luftwaffe's Goblet of Honour, The Military Advisor. Spring Ed.
Forman, A. (1993) Forman's Guide to Third Reich GermanAwards And Their Values. 2nd Ed.
Forman, A. (1996) Forman's Guide to Third Reich German Documents And Their Values. Vol 2.
Hormann, J. (1985) Die Auszeichnungen Des Hauptmann Struning
Klietmann, K. (1971) Deutsches Auszeichnungen.
Klietmann, K. (1989) Auszeichnungen Des Deutsches Reiches
Niemann, D. (1999) Bewertungs-Katalog - Orden und Ehrenzeichen Deutschland 1871-1945.
Scheibert, H. (1986) Die Inhaber Des Ehrenpokals Fur Besondere Leistung Im Luftkrieg

Acknowledgements
Bob Hritz
Detlev Niemann
Jacques Calero
Rick Lundstrom (Yoda)
Shawn Rawls
VerKuilen
Wlad - Rusfront Website


Top of Page

| | |
| --- | --- |
| © Copyright Wehrmacht-Awards.com LLC | |