by Sebastián Bianchi
On November 3, 1944 Reichsmarshall Goring instituted the Tank Battle Badge, more commonly known as the Luftwaffe Panzer Badge, to honor the panzer troops of the Luftwaffe field divisions. Until this time qualified Luftwaffe personnel were awarded the appropriate Heer Panzer Badge.
The order called for two basic forms of the badge. The first style consisted of silver oak leaf wreath and Luftwaffe flying eagle with a black tank in the center. These badges were awarded to tank commanders, gunners, drivers, radiomen, repair crews and their medical personnel.
The second style was identical to the first except the oak leaf wreath was now black. Panzer grenadiers, armored reconnaissance units, and the medical personnel attached to them were all eligible for this style.
Manufacturing and Technical Information
The Luftwaffe Panzer Badge consists of an oval wreath composed of eight oak leaves on the left and, due to the tank protruding from the center, only seven oak leaves on the right. A ribbon is positioned on the base of the wreath and a Luftwaffe flying eagle is to be found at the top.
Presentation, Wear, and Documents
The badge was presented in a paper packet with the name of the award printed on the outside. The award document that was to be awarded with it was the common type featuring the recipients name, rank, unit, and the authorizing signature of an officer. The Luftwaffe Panzer Badge was worn on the left pocket of the tunic and (as with all badges) could be worn on civilian clothes in miniature stickpin form.
Award Criteria
Both badge styles were awarded for three combat engagements on three different days. As mentioned above the silver wreathed versions were awarded to panzer crews, repair crews, and the medical personnel attached to them, while the black wreathed version was awarded to panzer grenadiers, armored recon units, and their medical personnel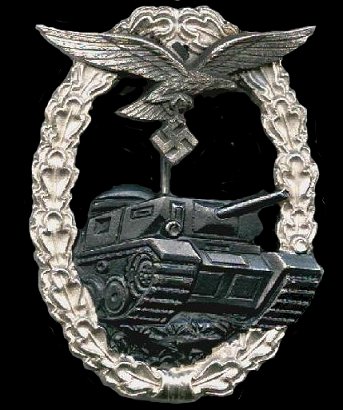 Reproduction - posted for illustration purposes only
Collector Warning
Due to their late institution these awards are exceptionally rare. Be wary of purchasing an example unless you have handled known originals.
Numbered Luftwaffe Panzer Badges - 25,50,75,100
On November 10, 1944, just one week after the introduction of the standard Luftwaffe Panzer Badge, Reichsmarshall Goring introduced four new classes of panzer badge for 25, 50, 75, and 100 engagements. These badges were larger than the original badge and featured a small box containing the appropriate engagement number at the base of the wreath.
WARNING: These badges are extremely rare, if not impossible, to find. It is highly unlikely anything but trial samples were produced.
Top of Page

| | |
| --- | --- |
| © Copyright Wehrmacht-Awards.com LLC | |