by Sebastián Bianchi
The destroyer war badge was instituted on June 4th 1940 by the Oberbefehlshaber der Kriegsmarine, Grand Admiral Raeder. Its creation being motivated by a need to decorate crews of the destroyers who had just fought in the Narvik campaign.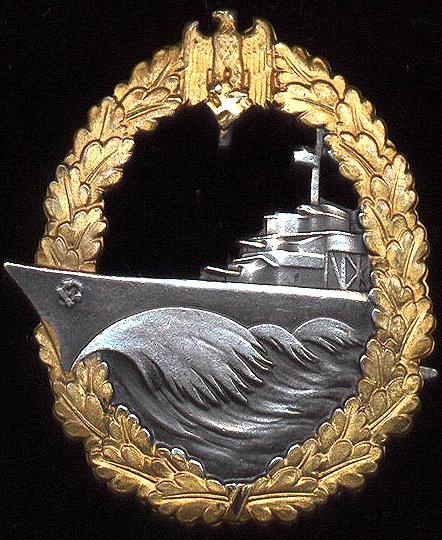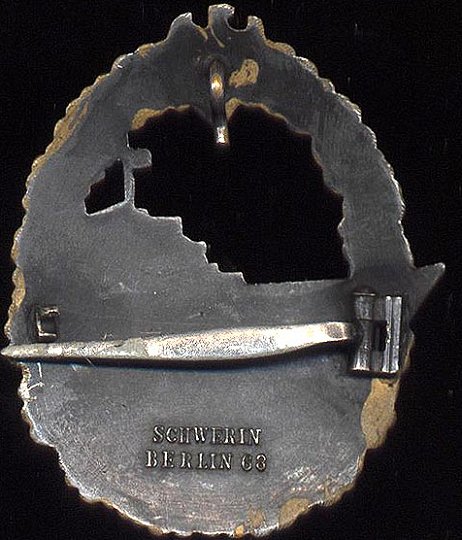 Photo Credit - M. Miller
Manufacturing and Technical Information
The badge was designed by Paul Carsberg of Berlin. It is composed of destroyer side-view negotiating a rough wave. The ship and the waves are oxidized silver with a gold oak leaves wreath surmounted by the national emblem surrounding the vessel. The badge was constructed in bronze and zinc. It measured 54mm from base to top and 45mm across, with the wreath measuring 7mm. Generally the attachment system consists of a horizontal pin with a small hook securing the badge.

Various makers manufactured this badge, the following list is not comprehensive:
- Schwerin of Berlin
- Gebrüder Wegerhoff of Lüdenscheid
- Steinhauer & Luck of Lüdenscheid
- Juncker of Berlin
- Josef Feix & Sohn
- Rudolf Souval
- Friedrich Orth
- S.H.u.Co.
- Godet
- So called "French version" with no mark

A cloth version exists and was authorized to wear on the uniform.
Presentation, Wear and Documents
Initially the badge was presented in a blue box with blue velvet base and a white lid. Later in the war it was presented in a normal brown packet.
The award was worn in the left side of the Naval uniform beneath the Iron Cross if that award was held. The badge was presented with a document of which various variants exist and the attribution was entered in the Soldbuch.
Award Criteria and Statistics
Though the badge was initially only supposed to be for Narvik participants, in an order dated 22 October 1940, the award was extended to all Destroyers, Torpedo Boats, and E-Boats crew members (for the last two this was only true up to the introduction of their own distinctive badge).
The badge could be awarded in the following conditions:
Participation in at least 12 operational missions.
Participation in 3 separate engagement with the enemy.
For special achievement or heroic action.
Service on a sunk ship as result of enemy action.
For being wounded during an engagement with enemy.
Those who participated in the Narvik campaign need not fulfill any other criteria. Statistics for this badge are unknown to the authors at this time.
Top of Page

| | |
| --- | --- |
| © Copyright Wehrmacht-Awards.com LLC | |