by Sebastián Bianchi
Grand Admiral Dönitz instituted the submarine combat clasp in bronze on May 15, 1944, in order to reward the courage of the U-boat troops that had been in a desperate struggle to turn the tide in the battle of the Atlantic for five years. The Badge existed in two classes as a Silver class was instituted later that year on November 24, 1944.



Photo Credit - MMiller

Wilhelm Ernst Peekhaus of Berlin submitted the design of the badge which was composed of a laurel wreath surrounding a submarine, surmounted by the national emblem. In each side there were 3 rows of oak leaves with two crossed swords at the base of the wreath emphasizing the military nature of the decoration.

Both classes of the badge were manufactured in zinc, then bronzed or silvered. The main manufacturer was Schwerin of Berlin which name was impressed on the reverse. It seems that Rudolf Karneht and Friedrich Linden also manufactured this badge but no examples are known by the author. The colour varied according to the quality and the age. Schwerin manufactured two types of badges, one of which has a semi-hollow wreath back side. The hook is rounded and catch and pin are hollow.
Award was determined by recommendation of the U-boat commander based on the number of sorties and/or personal bravery demonstrated. It was then approved by Grand Admiral Dönitz.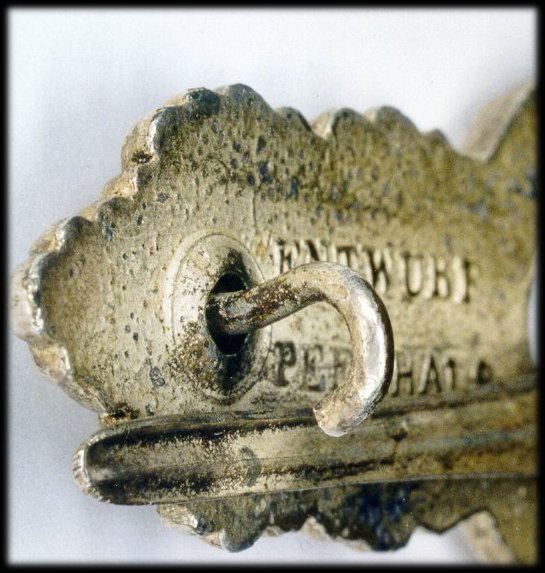 Dimensions:

Width: 76-77mm,
Height: 15-16mm,
Height of the wreath: 24mm
Weight: 19g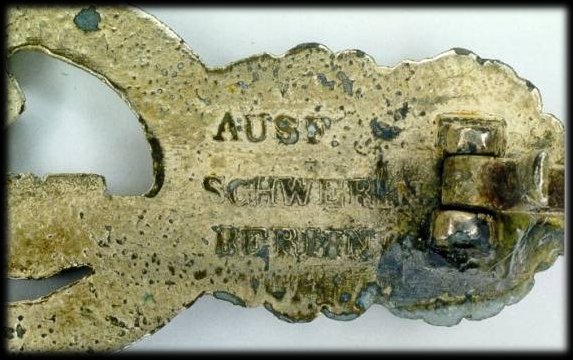 Top of Page

| | |
| --- | --- |
| © Copyright Wehrmacht-Awards.com LLC | |