by Sebastián Bianchi
The coastal artillery service was the Kriegsmarine branch responsible for protecting the Reich's coastal borders from both air and sea attack.
On June 24, 1941 Grand Admiral Raeder instituted the War Badge of the Coastal Artillery to reward the actions of both individuals and crew members.
Manufacturing and Technical Information
Designed by Otto Placzek of Berlin, the badge consists of two rows of oak leaves in the form of a wreath. Inside the wreath is a coastal artillery piece with the ocean in the background. Centered at the top of the badge is an eagle with downward facing wings at its side clutching a swastika. Original examples have 15 full oak leaves per side with two partial leaves at the top near the national emblem. The wreath and national emblem are finished in gold while the remaining areas have a gray finish. As the war progressed and material quality declined the finish wore off more quickly, giving a gray overall appearance to many examples.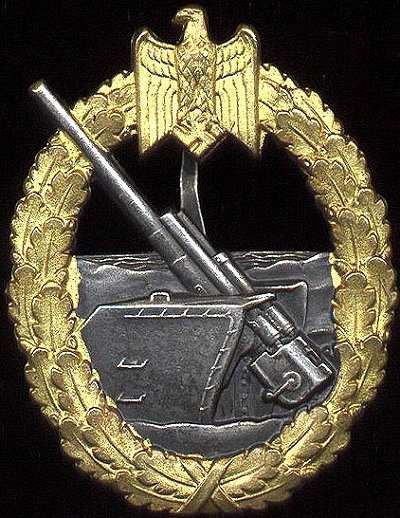 M. Miller collection
Presentation, Wear and Documents
The badge was presented in a titled envelope and was worn on in the middle of the top most tunic pocket.

Upon receipt of the badge each recipient received an award document and notation was made in their Soldbuch/Wehrpass. Documents vary in size and style from decorative examples featuring a likeness of the badge to hand typed field made examples.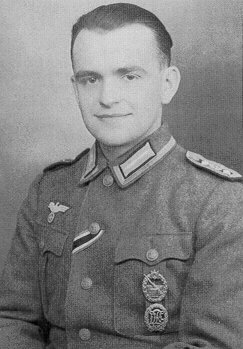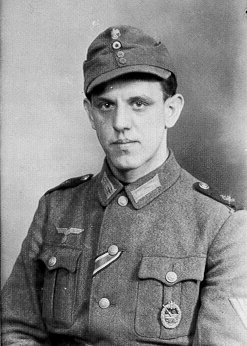 Award Criteria and Statistics
Individuals had to display significant leadership qualities or any single act of "merit in action" for which no other award was given. Crew members badges were issued using a points system, with eight points resulting in the award. Gun crews which downed an aircraft unassisted were given two points. If assistance from another crew was necessary only one point was awarded. Searchlight crews, fire-control personnel, sound-locater crews, and radio operators were also entitled to the award but only received half a point for each first detection. It could also be awarded posthumously for death in action or accident on duty.
The award was initially intended for members of the coastal air defense force, but not long after its institution it was expanded to include crew members of guns positioned against naval targets.
Top of Page

| | |
| --- | --- |
| © Copyright Wehrmacht-Awards.com LLC | |