François Saez, Paul Williams & Gordon Williamson

GESCHWADER BOELCKE
Introduced by Luftwaffen-Verordnungsblatt Nr 12, Order Nr 164 on 18 April 1935, this special commemorative cuffband was intended to recognize prior service with Jagdstaffel Boelcke during World War I. It was introduced at the same time as the cuffband intended for Fliegergeschwader Fassberg, and bore the inscription "Geschwader Boelcke." Like its Richthofen contemporary it was distinguished from the basic unit title by having a 3mm wide strip of Russia-braid edging on each border.

This cuffband was withdrawn in October of the same year when, in the same order as that introducing the new commemorative Richthofen cuffband, a special pattern was authorized for those who could produce proof that they had served with the Boelcke Staffel in World War I. The new cuffband featured the inscription "Jagdstaffel Boelcke Nr. 2 1916/18." Framed at each border by a 3mm wide strip of Russia-braid edging.




Below: NSFK gruppenführer von Bülow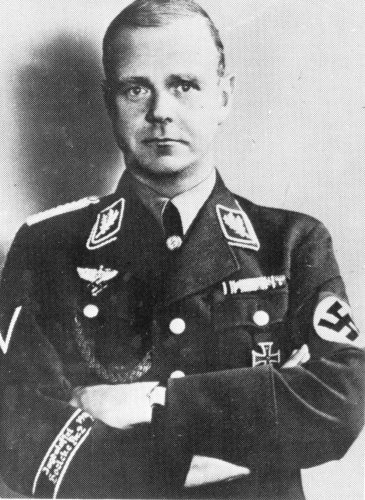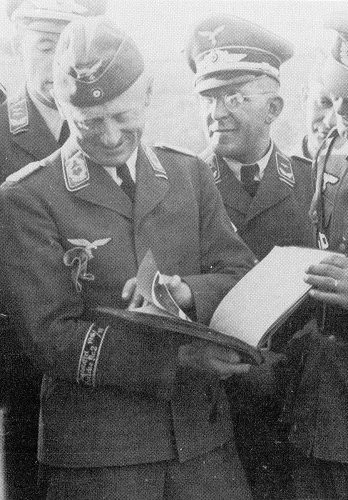 Bruno Loerzer (above and below)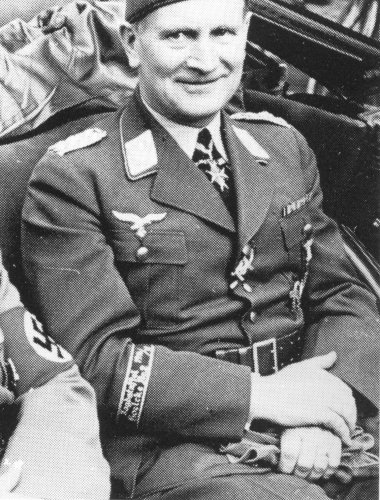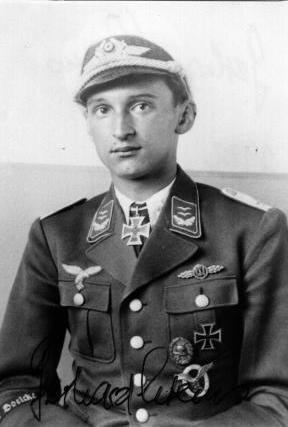 Above: Bomber pilot Gerhard Krems was awarded the Ritterkreuz on 25.5.42 whilst serving with 2./KG27 "Boelcke".


Pberleutnant Krems' other awards include:

EK2 - 21/10/40
EK1 - 11/12/40
Bomber Clasp bronze - 22/4/41
Black wound badge - 30/06/41
Bomber Clasp silver - 25/7/41
Bomber Clasp gold - 10/10/41
Honour Goblet - 26/10/41
East Front Medal - 25/11/42
Bomber Clasp gold with star - 20/12/42
Krimschild - 15/3/43

The Boelcke cuffband was to be worn by all members of Fliegergeschwader Fassberg, later to be renamed as Kampfgeschwader 154, Kampfgeschwader 157, and finally Kampfgeschwader 27.

This cuffband commemorated another of Germany's great World War I fighter aces, Hauptmann Oswald Boelcke, who had been the very first member of Germany's flying corps to win the coveted "Pour le Mérite." Boelcke had commanded a squadron which rivaled Richthofen's own, and won fame almost approaching that of the Red Baron himself.
The cuffband was executed in the usual aluminum wire hand embroidery for officers and silver-grey or matte-grey machine or hand embroidered cording for enlisted men and NCOs and bore the inscription "Geschwader Boelcke" (or "Geschwader Bölcke") in Gothic script lettering. It was worn on the lower right sleeve.
3 types of NCO cufftitle BOELCKE
Three views of an officer quality cuffband .....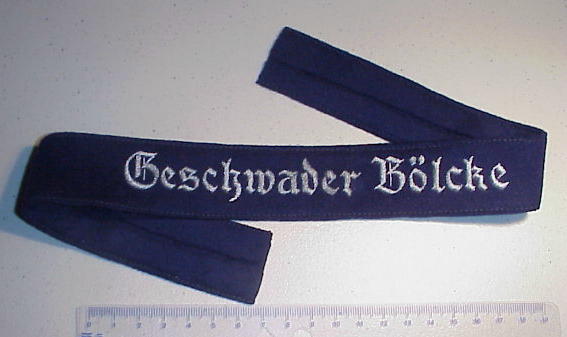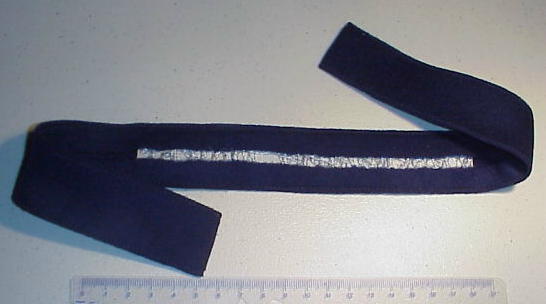 Early officer's version below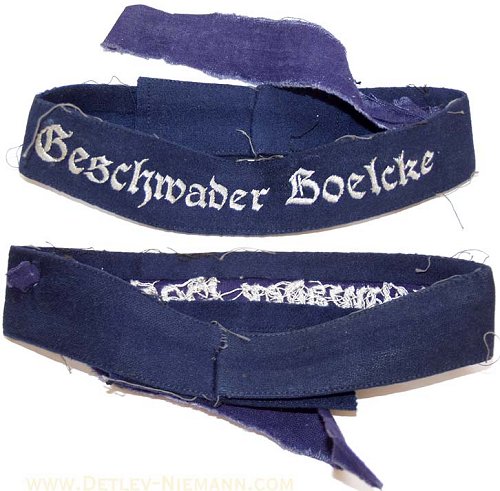 Enlisted man / NCO private purchase quality cuffband

the reverse ....

A Boelcke cuffband of atypical weave and materials


'Standard' enlisted man / NCO cuffband .....


Detail of the above cuffband ...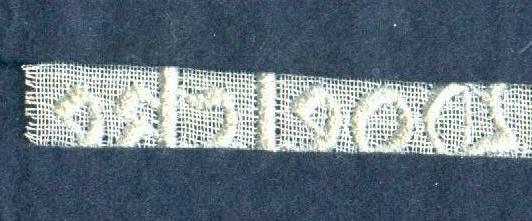 Close views of another enlisted / NCO cuffband .....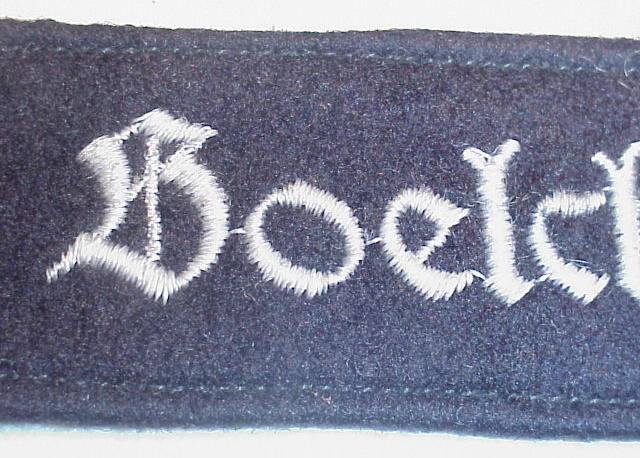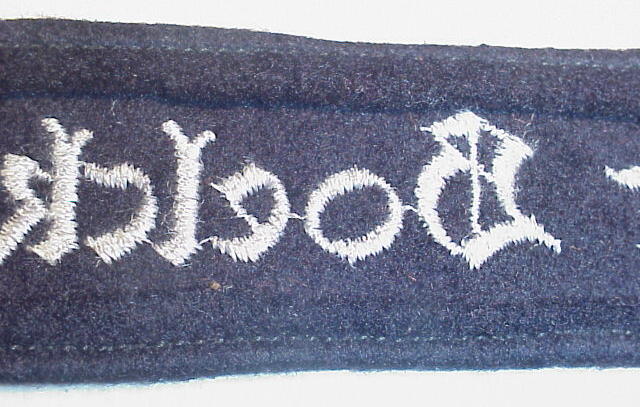 Two documents for the Boelcke cuffband awarded to Unteroffizier Hans Rummler in 1943.
On the right, the "Besitzzeugnis" (ownership certificate).
On the left is his "Verleihungsurkunde" (award or conferment certificate)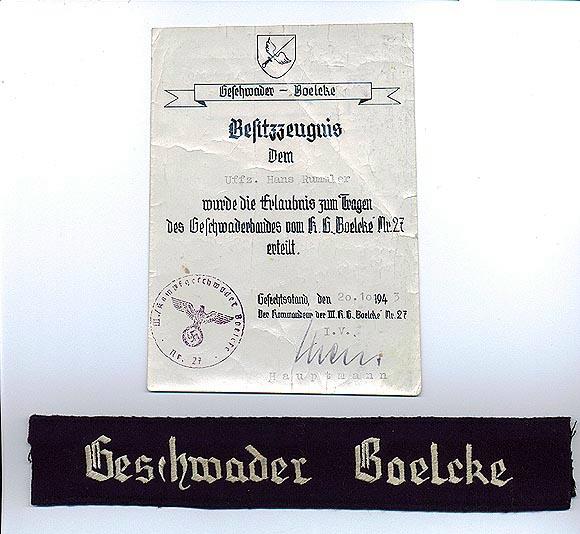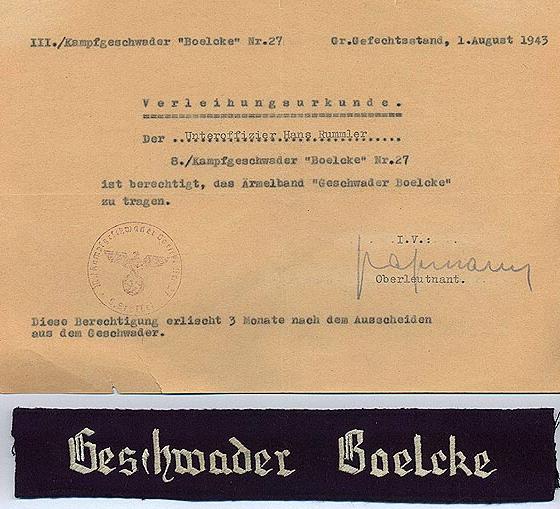 Hans Rummler's cuffband of private-purchase quality: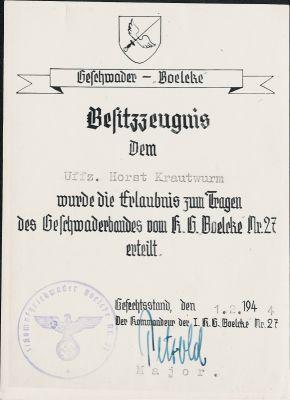 The document authorising Unteroffizier Horst Krautwurm to wear the unit cuffband.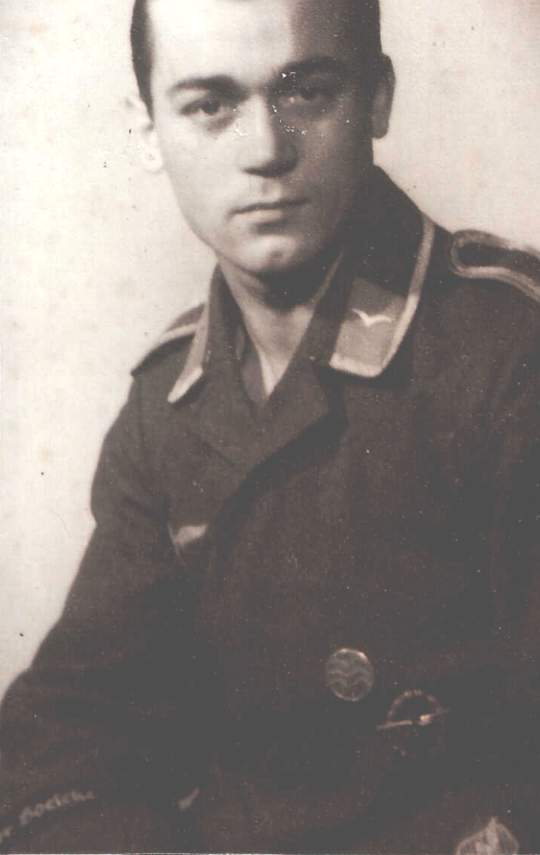 A rare photograph! Uffz. Gunther O. was attached to IV Gruppe KG 27 "Boelcke". This NCO airman was a Glider Pilot from 25.02.1944 - his duties were both transporting supplies for his bomber unit and training He 111 pilots to tow gliders (Type Go 242 ).
His awards included the Glider C - proficiency badge, the Luftwaffe Glider Pilot's badge and the NSFK Glider Pilots badge. In this photo he is also wearing the Motor Vehicle Driver's qualification badge on his left sleeve.

(Note: from 1943 glider planes and pilots were transferred to bomber units such as KG 4, KG 27, KG 53 and KG 55. At the beginning of 1944 there were a total of 41 such glider crews active with bomber units.)

Top of Page

| | |
| --- | --- |
| © Copyright Wehrmacht-Awards.com LLC | |